Have you noticed most of the smiles of your favourite Hollywood actors are white, straight and perfect? We call this the "Hollywood Smile" for that very reason! While some of the smiles of the celebrities we admire are natural, just as many have been created in the chair of a great dentist. If you have considered improving your smile with veneers, read on to find out more about veneers in Barrie!
How do veneers work?
They are a very quick way to improve the look of your smile. Typically they can be completed within 3 or 4 visits including the initial consultation and scan. Appointments for veneers are as follows:
1. Consultation and scan.
Our dentist will complete an exam to make sure your bite will not interfere with the dental veneers and will complete an intra-oral scan using our state-of-the-art technology. This will allow us to digitally create a few options for you to choose the smile you are looking for. At this visit we will also discuss the shade of your desired smile. There will be a lot of discussions to ensure you get a result you are happy with!
2. Prep.
Once you are happy with the design, you will return for a 2-3 hour appointment at our cosmetic dentistry clinic where your teeth are prepped to accept the veneers. Prepping the teeth involves reducing the thickness of the enamel on the front portion of the tooth so that there is adequate surface area for the porcelain veneer to adhere to. You will leave this appointment with temporary veneers while the lab fabricates your new smile.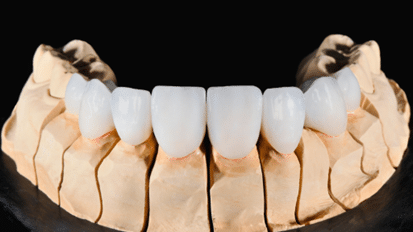 3. Placement of the final veneers.
This appointment is shorter and will result in you leaving with your permanent new smile! During this final appointment, your dentist will remove the temporary veneers and replace them with the lab-created final veneers using permanent dental cement.
Veneers aren't for everyone. Many people who would like to improve their smile may have alternative options available to them. Some opt for treatments such as Invisalign, which takes longer but preserves the enamel on the teeth. Some opt to whiten their teeth and feel that whitening will improve their smile to the desired outcome. If you are unhappy with your smile, let us know! We are always happy to discuss the options that are available to you!