COVID-19 UPDATE: We are staying committed to our patients. To learn more, click here.
Teeth Whitening in Barrie
When it comes to teeth whitening in Barrie, you have a few options with some being more effective than others. At Simcoe Family Dentistry we can help you get a brilliant smile with professional teeth whitening dentists for all in the Barrie area.
Take-home Whitening
Get it free when booking an oral exam or hygiene appointment.
Take it home!
* with complete exam and hygiene, provided there are no contraindications to whitening based on your oral condition. The regular price is $350.
What Causes Teeth Yellowing
There are several factors that can contribute to your teeth turning yellow over time. Age is one of them and it is natural for teeth to turn more yellow as you get older. Certain foods and drinks such as coffee, tea and red wine also cause yellow teeth through staining. Habits such as smoking can contribute to a duller smile with unsightly dark stain. In other words, yellow teeth are common and can happen to anyone but there are also steps you can take to change that.
Types of Teeth Whitening
There are many varieties of over the counter teeth whitening products that attempt to give a whiter appearance to your teeth. In truth, these products hardly make a difference in contrast to professional teeth whitening. A Teeth whitening dentist can offer the most effective solution to yellowing teeth. Power bleaching is the process in which your teeth can become many shades lighter and this procedure is carried out at your dental clinic under the direct supervision of those qualified to perform this procedure.
In-office Professional Teeth Whitening
At Simcoe Family Dentistry, we offer two types of professional teeth whitening – in-office whitening and take-home whitening. In-office whitening will get you an immediate result, where take-home whitening is more gradual and controlled by you. Right now we are offering a whitening promotion for our patients. With a new patient exam and hygiene appointment you may qualify for a free take-home teeth whitening kit or a special promotional price of $249 for in-office whitening. This is a savings of $150!
A Take-home Teeth Whitening Solution
An alternative to in-office teeth whitening is to have a prescribed take-home whitening kit from your teeth whitening dentist. This option takes more time but it is also more cost-effective. Your dentist or dental hygienist will take an impression of your teeth and you will receive a take-home mouth tray that is custom fit to your teeth. Into this tray you will apply a whitening gel to wear over your teeth for a specified amount of time each day for 9-14 days. To get accurate results you must adhere to the schedule provided by your dentist or dental hygienist.
Before & After Whitening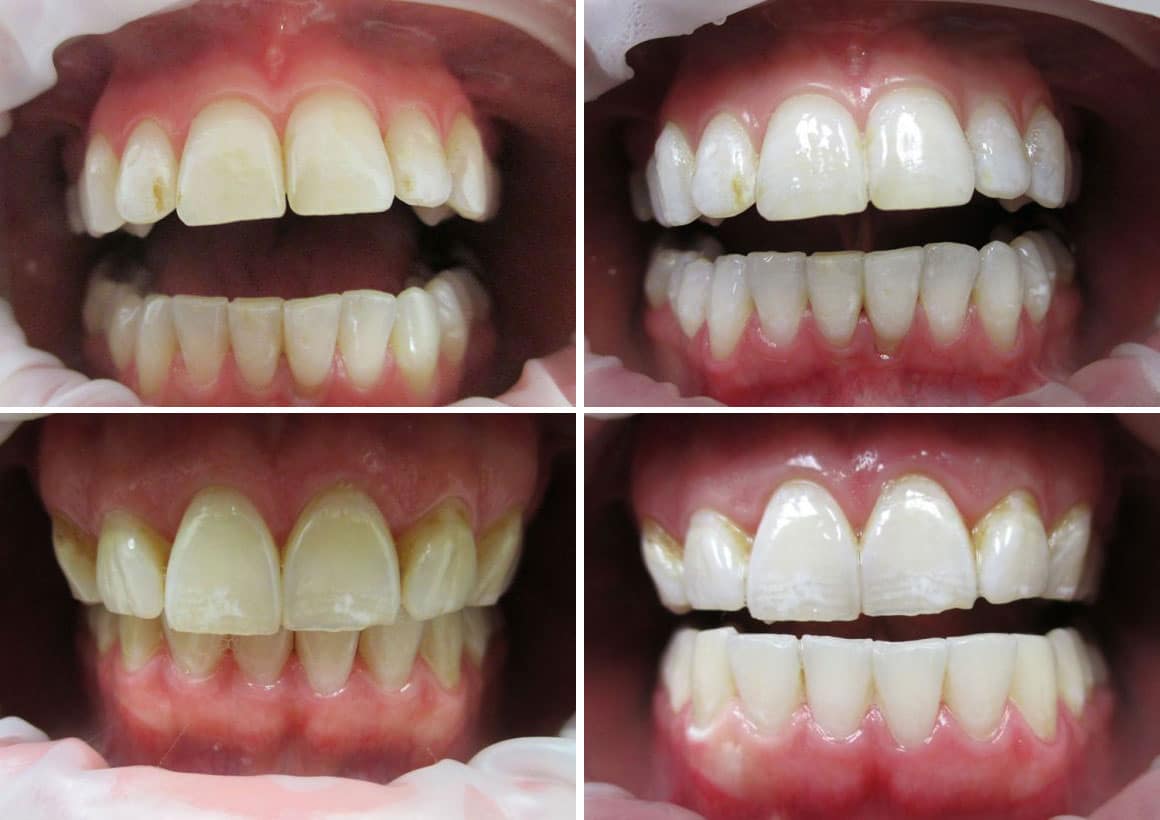 How Are Teeth Whitened In the Dental Office?
The first step to whitening your teeth is ensuring your gums are healthy in the first place! Your teeth whitening dentist will give a comprehensive exam to determine the health of your teeth and gums and give you a plan to make them healthy if needed prior to teeth whitening. Teeth whitening treatment is a cosmetic dentistry procedure that involves blocking out the sensitive gum tissue and applying a bleaching solution to your teeth. The whitening gel is removed after 8 minutes and then reapplied up to two to three times more. Some methods of teeth whitening in the office require the use of an LED or even a UV light. By using the Venus White brand, the use of the light is eliminated which greatly reduces the chance of sensitivity. Sensitive gum tissue and any visible root is blocked out with a special material that prevents the bleaching solution from causing further sensitivity. Before and after pictures will be taken so you will see the immediate result comparison! This procedure is safe, pain-free and can give long lasting results for up to two years. This is the fastest way to whiten teeth and should only be performed under the direct supervision of a dental professional.
Although whitening treatment for teeth procedures themselves are pain free it is normal and frequent to experience mild discomfort and sensitivity after. You will be offered a complimentary fluoride varnish application to help to reduce the chance of sensitivity after your whitening procedure. If you do experience discomfort or sensitivity, rest assured, these symptoms are not serious and go away within a few days.
However, if whitening treatment for teeth is carried out by a non-professional, an over-the-counter tray fits incorrectly, or bleach is applied wrong there can be serious pain and discomfort. For this reason, it is recommended to visit a professional dental clinic. Teeth whitening in Barrie is safe for non-natural teeth as well, but will not change the shade of fillings.
If you have fillings that are breaking down, decay in your teeth, erosions of the teeth or exposed root surfaces due to periodontal disease, the peroxide in whitening gels may cause severe tooth sensitivity and the decay to become worse. Such conditions need correction prior to the whitening procedure. Please ask your dental healthcare provider for more information or for an assessment to determine if you are a good candidate for teeth whitening!
Simcoe Family Dentistry is a great choice for a dental office who provides great options for Teeth Whitening in Barrie! Inquire about our Free Teeth Whitening promotion!
DENTAL EMERGENCIES
Same-day dental emergency services.