COVID-19 UPDATE: We are staying committed to our patients. To learn more, click here.
A dental implant can help to fill the gap when one or more teeth are missing. Whether you lost your tooth due to an accident or because it had to be removed, Simcoe Family Dentistry has you covered in Barrie and in the surrounding areas.
Don't let a missing tooth hold you back! Dental implants are safe and pain-free and can help to restore your smile to its full potential – allowing you to chew, talk and smile with complete confidence. Our dental clinic in Barrie welcomes patients from Barrie and all surrounding areas.
What Is A Dental Implant
A dental implant is a dental surgery to replace a missing tooth or teeth and consists of three parts: the small titanium rod that screws into your bone, an abutment which holds the crown, and the crown itself. The result is virtually indistinguishable from your natural teeth and, as long as you are a candidate, is the gold standard in replacing a missing tooth or teeth.
Ensuring You Have Sufficient Bone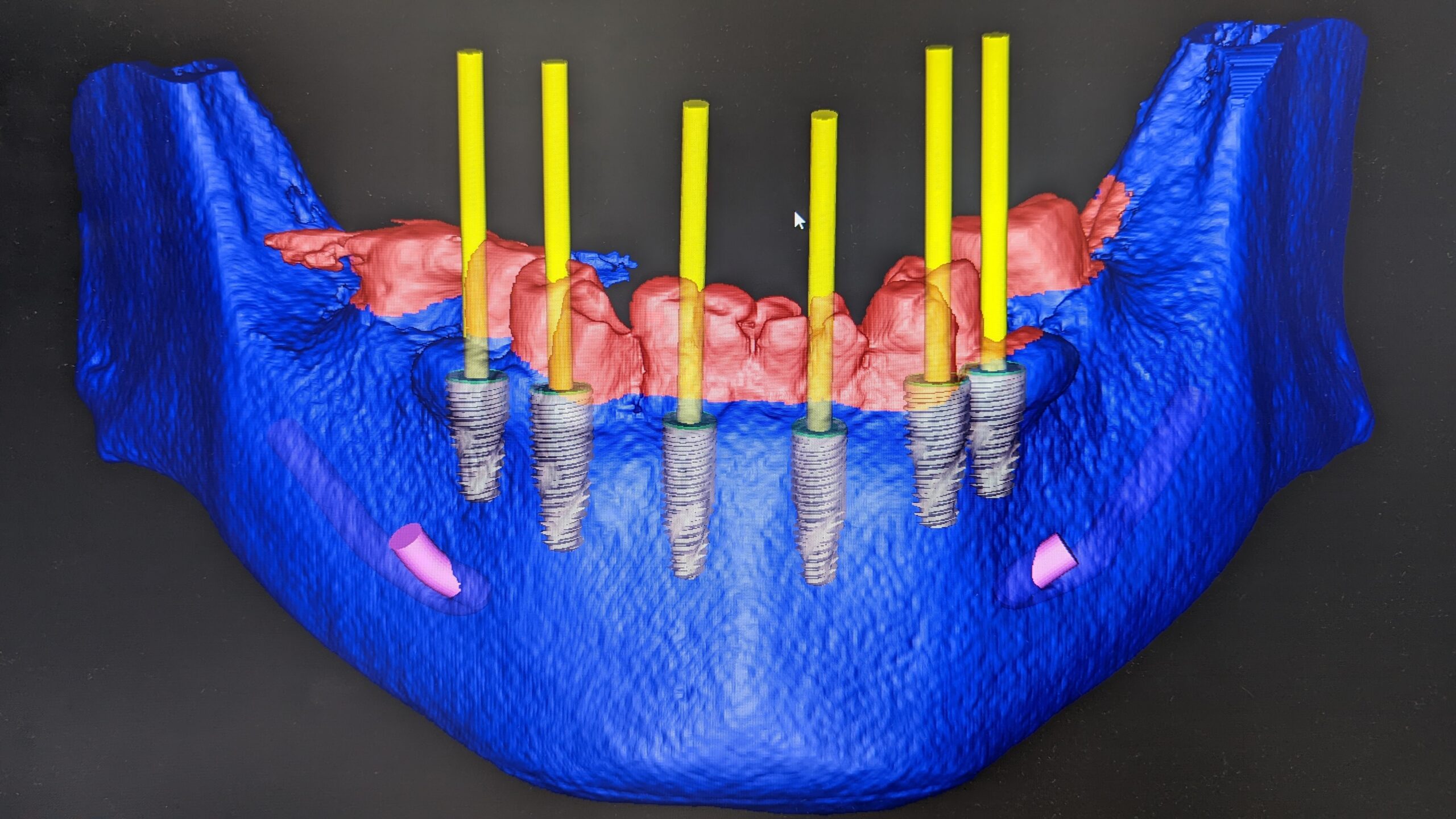 To ensure a dental implant that will last you many years, this procedure happens in two parts and can take around 4 months. Before you begin, your dentist will determine if you have enough bone to support the implant by sending you for a 3D scan, as the bone under a missing tooth naturally shrinks over time. If there is not enough bone in width or in height, your dentist may recommend a procedure called bone grafting. Bone grafting will increase the amount and strength of existing bone so that it may support an implant. It may take a few months for the bone grafting material to be strong and stable enough to proceed to the next step. This 3D scan also gives the dentist the opportunity to plan the surgery. At Simcoe Family Dentistry, Dr Mikhail uses the scan to create a template or surgical guide for precise selection and placement of the implant.
Placing the Implant
The procedure begins with a surgical placement of the titanium rod into your jaw which acts as the replacement for the root part of your tooth. Surprisingly, this a painless procedure since the bone does not have feeling. In fact, most patients report the most uncomfortable part of the implant process is the initial extraction of the missing tooth! The area is well frozen with local anesthetic so the procedure is virtually pain free. There will be a waiting period during which the implant needs to fuse, or integrate, to the bone. While this healing occurs, you may receive a temporary crown depending on where the implant is located in the mouth. Exerting force on the implant like chewing or clenching your teeth can prevent it from attaching securely so your temporary crown will be shorter than the rest of your teeth and you will be advised to chew away from it to allow for proper attachment and healing. This may take a few months.
Attaching the Crown
Finally, once your implant is secured in place your permanent crown will be attached either directly onto the implant or via an abutment. This implant method works for replacing a single tooth or multiple teeth in the form of a 3- or more unit bridge. Once your crown is attached you will be amazed at how natural your new tooth looks and feels! If you feel an implant might be something you would like to consider, please let your dentist know at your next dental appointment. We can go over all the options available to you to replace that missing tooth!
11 Ferris Ln, Unit #301
Barrie, ON L4M 5N6
DENTAL EMERGENCIES

Same-day dental emergency services.
We are welcoming new patients with dental emergencies. Our dentist in Barrie offers professional and quality care to ensure your entire family has healthy teeth and beautiful smiles.