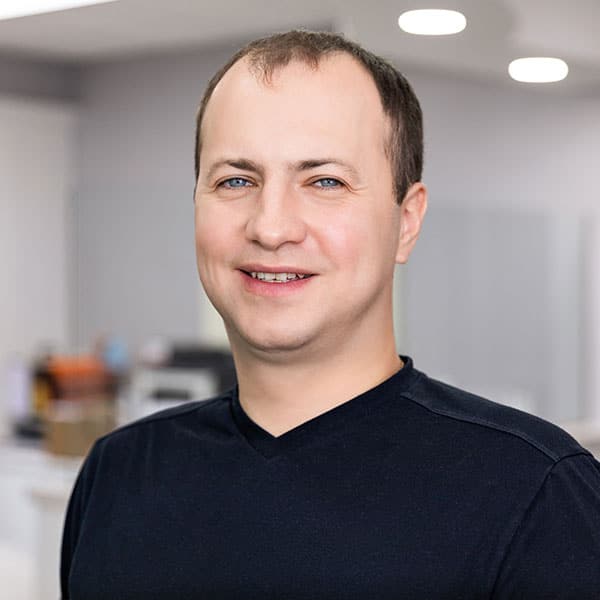 Mikhail received his first dental degree from Faculty of Dentistry at Perm State Medical Academy, Russia, in 2006. He spent two additional years doing a hospital dental surgery internship where he worked as dental surgeon at the Pediatric Oral Maxillofacial Department treating kids with disabilities and provided services at 24/7 dental emergency and oral facial trauma unit.
In 2008, he immigrated to Canada and took various continuing education courses in order to get a North American dental degree. In 2013, Mikhail, moved to San Francisco, California and successfully completed a two year International Dentist Program (IDP) at the School of Dentistry, University of California San Francisco. There he obtained a deep knowledge at all aspects of restorative dentistry, got extensive training in dentures and laser dentistry and was involved in the University Committee as a class president.
After receiving his DDS in 2015, Mikhail moved back to the GTA area, took the National Dental Exam Boards and successfully received his License to practice dentistry in Ontario. He continues to take various continuing education courses to deliver exceptional treatment and service to his patients using the most advanced techniques and modern technology in dentistry.
Since then, he has provided exceptional dentistry services to GTA communities. In 2017 Dr. Pliousnine moved to Innisfil and is extremely happy to join the Barrie area and surrounding region communities with an aim to change and maintain patient oral health at the highest level.
Dr. Pliousnine is very experienced at providing dental urgent care. He dedicates large part of his practice to patients with dental emergencies in Barrie and surrounding communities. Whether its shooting pain, swelling or broken tooth, Dr. Mikhail is happy to help and have knowledge to manage it. His way to success is to see more and more people's smiles. Every patient is valuable and is treated like a member of a big family.
Mikhail enjoys an active lifestyle, with a passion for sports, outdoors activities and nature. He also has a passion for exploring and cooking cuisines of different cultures, particularly various Middle Eastern and Asian dishes. The most sacred value for him is his family. He is thankful to his wife, parents and his brother for their support and inspiration. Dr. Mikhail Pliousnine now works as dentist in Barrie and welcomes everybody to his clinic and hopefully to become a part of the family.