This week's dental blog is about a pretty hot topic not just in the dental world, but in our Barrie dental office as well! As dental professionals (and parents!) who are regularly seeing children in our practice, we have some tried and true methods for getting kids interested in caring for their teeth.
Show a good example. The best thing you can possibly do for your child is to show a good example. Show them that you love brushing your teeth, talk about how your teeth feel so clean after, how your breath feels so fresh! They are always watching you and taking in information like little sponges. You are their hero and they will do whatever they can to be like you!
Give them a choice. Do they want a pink brush or a green brush? Do they like animals or maybe transformers? Would they prefer a regular brush or maybe an electric brush? Giving your child a choice will make them feel as though they have some control.
Be very attentive. Is there one spot in particular that your child hates having brushed? Is it possible that there is a dental issue in that area that may be causing pain? This is your opportunity to find potential problems when they are small and have them fixed before the pain is associated with teeth brushing. If it hurts, it will not be a positive experience.
Sing a song. Singing a toothbrushing song together or creating some other ritual that you do together while brushing will not only make your child look forward to brushing their teeth but will create long lasting memories of the two of you together!
There's an app for that! In today's digital world there is certainly an app for that! Check out brushDJ or Chomper Chums to see if either would benefit your child.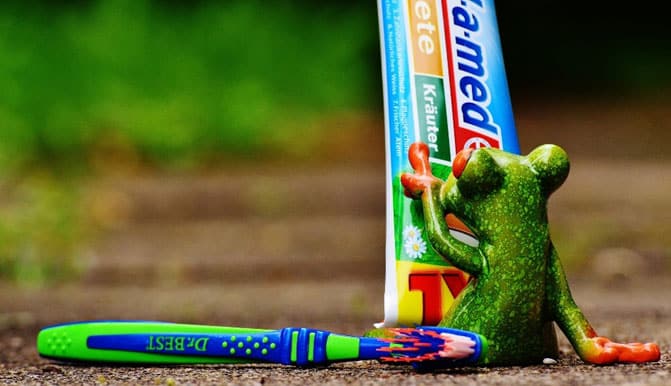 As you can see, there are many tips that are age appropriate to help to encourage healthy oral care habits from a young age. Of course, it is recommended by the Ontario Dental Association that all children are seen by a dental professional by the age of 1 year. We absolutely love kids at Simcoe Family Dentistry! Our clinicians are experienced with treating children and we have children of our own. Let us treat your family like ours by making a dental appointment today! Give us a call at (705) 792-0079 and our friendly Sarah will help you out! Please, if you have any other tips that have worked in making oral health care exciting for your kids, share with us on our Facebook page!