Are you missing a tooth or teeth?  Have you been considering a dental implant or perhaps more than one dental implant to replace your missing teeth?  Many of our patients have heard of the different options for tooth replacement and over and over have heard that a dental implant can be the next best thing to a natural tooth.  If you have decided that a dental implant is the right treatment for you, read on to see our step-by-step dental implants guide to what the procedure entails.
Here's Our Dental Implants Step-By-Step Guide:
Your Barrie Dentist will let you know if you are a candidate for a dental implant.
At your examination, your dentist will be able to determine if there is enough bone in the area of the missing tooth to support a dental implant.  Even if there is not enough bone, it may be an option to have bone grafting surgery to create the bone width or depth to support an implant.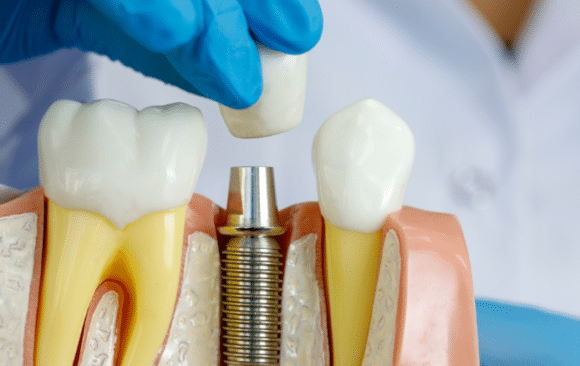 Your dentist will then send you for a CBCT Scan or 3D image of the area of the jaw the implant will be placed.
The 3D scan will allow your dentist to precisely plan where your implant will go before starting surgery.  This is called guided implant dentistry and allows the most predictable result for your surgery. The pre-planning allows your dentist to determine if you require any bone grafting or sinus lifting and if you have the option to have an immediate temporary tooth placed on the implant or if you would be better to wait until bone integration of the implant is confirmed.
Next in our dental implants step-by-step guide – surgery.
This may be on the same day as the extraction of the tooth you will replace, or after the area has healed.  The dental implant surgery takes an hour or less for a single dental implant. You will be well frozen in the area and may choose to have a form of sedation such as oral moderate sedation or nitrous oxide (laughing gas).  Our patients have almost always commented that the surgery was not what they were expecting – in a good way!
The healing process and follow-up appointments are the next step.
You will be seeing your dentist regularly over the next few months to ensure the dental implant is integrating well into the bone.  Many patients tell us they have a bit of discomfort in the days after the surgery, but this is usually managed with over-the-counter pain medications.
The final stage of the dental implant process is the delivery of the final crown!
Once the implant has been determined to be fully integrated into the bone, your dentist will let you know it is time for your implant crown.  There may be a small surgery if you did not have a temporary implant crown placed to uncover the implant to place a healing abutment (a small fitting to shape the gum tissue). We would then take a scan to send to the lab so you end up with a final crown that fits perfectly.  Once your custom crown has been fabricated, your Barrie Dentist will screw it into your implant and place a small filling overtop.  You now have a new tooth!
Our team has worked hard to make these appointments and the dental implant process in Barrie straightforward, easy to understand and comfortable.  If you have any questions about dental implant options or want to know if this is a good option for you, please give us a call at 705 792 0079.  We are always here to help!