Many of us have been home – working or otherwise – for a week or more now. With the kids out of school and safe at home with parents you may be noticing that kids (parents too!) are starting to get bored and a little bit restless! We have come up with a list of 5 things to do to help you stay entertained!
1. Clean a closet or cupboard. Most kids love organizing! Especially when it involves one on one time with a parent. What better time to spring clean?
2. Get outside! The weather has been beautiful for outdoor yard work, walking the dog or just playing with the kids. Some neighborhoods in Barrie are having the kids make smiley faced crafts and put them in the window for other children to spot on their walk! As long as you are maintaining a 6 foot distance away from people who are not members of your immediate household, the fresh air will do wonders for adults and kids alike.
3. Start a new craft or hobby. You now have time to teach your kids about a hobby you enjoy. Perhaps you are into crocheting or knitting or maybe even remote control cars. Now is the perfect time to enjoy your hobby with your kids.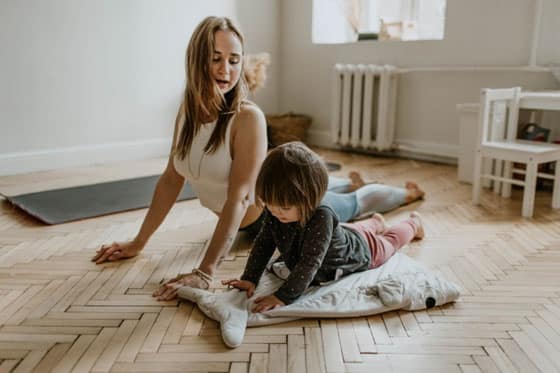 4. Do a virtual workout class. Many gyms are offering free virtual workouts right now. Peloton, CorePower Yoga and Planet Fitness all have free programs you can follow along with.
5. Learn a new language. Duolingo is a great free resource for learning a new language. Try to have a friendly competition with your child – we are willing to bet the kids pick it up faster than the adults!
Whatever you decide to do together, remember that what is going on in the world right now is stressful for adults and kids alike. It is so important to have fun and spend this time together while staying safe. Head on over to our social media pages to see what our team is getting up to and to comment with what you and your family are doing to pass the time! Stay safe!