What a great excuse to discuss why dental health is even especially important for children! Now is the time to set your little one up for success in dental health today as well as in the years to come. Read on to discover ways you can help to foster great oral health habits!
Show them a great example! Your child looks up to you and wants to do everything "just like Mom or Dad"!  Teach them great habits by showing that you brush and floss regularly.
Take them to the dental office. The best time for a first dental visit is before the age of two, or when the first teeth erupt.  We offer our young patients what we call a "happy visit".  This allows them to see the sights and hear the sounds of the dental office so they become comfortable in this new environment. We try to make this visit as fun as possible and if your child will open his or her mouth to show off those pearly whites, that is a bonus!  This first visit is no charge.
Make brushing fun. Add a fun song to your child's brushing routine to not only make it fun, but to add extra time to the brushing experience.  An ideal brushing time is 2 minutes, so try to find a song at least this length.
There's an app for that! There is an app for everything and making oral health fun is no exception.  Check out our recent blog post regarding apps for toothbrushing.
Persistency is key. Don't let your child talk you out of brushing or flossing because they are being fussy.  Allow them some time and then get back to it!  Once they realize brushing is not negotiable and they find out how fun it can be, they will be asking you to brush their teeth!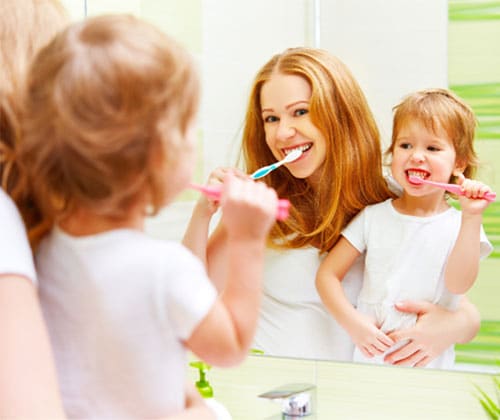 We love seeing all ages at our Barrie Dental Office, especially children! It is such a great feeling knowing that we can help to set kids up for healthy smiles for life!